Departmental Stores in Coimbatore

view : Coimbatore Online Shopping

All Items Under One Roof !

Shri Kannan Departmental Store (P) Ltd. is the best of all departmental stores in India. All your needs and expectations in shopping are fullfilled with great attention. We have a well trained, experienced and motivated staff to serve our valuable customers with great attention and enthusiasm.
---
The "Nilgiri Nest" based at Bangalore, Chennai and Coimbatore have made a mark in the front of hospitality. The ergonomically designed rooms of the hotel are just perfect for relaxation. The single, double and deluxe suites at the hotel offer conveniences of home and an all-day room service. Situated in the campus are the Supermarket, Restaurants, Cafes, and Business centre for the hotel residents.
---
For a close virtual experience check out our 360 degree interactive views for various floors.Each floor at our Coimbatore showroom has its own dedicated section for Kids, Gents, Ladies, Silk/wedding collection. These gallery can only give a virtual shopping experience, we invite all of you to our showroom for a real grand & memorable shopping experience.
---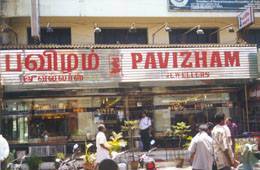 Cross-Cut Road Gandhipuram
---
Sq.Ft.

:
55,000 Sq.ft
Started at
:
1996

Floors

:
6 Floors
Collections
:

Synthetic Sarees, Silk Sarees, Fancy Sarees, Shirting/Suiting,
Gents / Kids Readymades, Handloom, Furnishings and
Dress Materials.

Note
:

Our "Sree Kumaran Thangamaligai" Jewellary showroom is located along with our Textiles Showroom.
---
Joyalukkas showcases over 100,000 designs for each of the 100,000 expressions of women. Some of our brands in gold jewellery like Mayoori , Florentina and Zenina are now household names among Indians and Dubai people who prefer the richness and elegance of 22 karat gold to other lesser karatage gold. In addition to in house, international and DTC brands in gold and diamond jewellery, Joyalukkas also offers an extensive collection in platinum and pearl jewellery.
---